vagrant
http://www.vagrantup.com/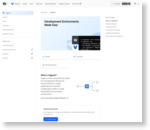 Vagrant
Oracleの仮想マシンのCUIツールとして作られた。
今は様々なvmwareなど仮想マシンやAWSなどクラウドマシンにも対応。 「Vagrant」は仮想環境をプログラミングするツール。同一環境をどこにでも、いくつでもすぐに作成可能。Vagrant meetup 2013 ? Publickey
複数の人やマシン間の開発環境の統一に便利。
メンテナンスした内容をてそれぞれの仮想環境にコマンド一発で反映させられる。
vagrantインストール
1)vagrantをダウンロード
http://downloads.vagrantup.com/

Vagrant – Downloads


ここから最新版をダウンロード。(今回はv1.3.1)
2)インストール
ダウンロードしたdmgファイルをダブルクリックしてインストール
virtualboxのインストール
無料で使える仮想マシン環境VirtualBoxをインストール
1)VirtualBoxをダウンロード
https://www.virtualbox.org/wiki/Downloads
から最新版をダウンロード。(今回はVirtualBox 4.2.18 for OS X hosts)
2)インストール
ダウンロードしたdmgファイルをダブルクリックしてインストール
仮想マシン(Box)のインストール
適当なVirtualBoxの仮想マシンを見つける
例えばここから適当に選択
http://www.vagrantbox.es/ A list of base boxes for Vagrant – Vagrantbox.es
今回はubuntuのオフィシャルサイトから。
http://cloud-images.ubuntu.com/vagrant/raring/current/
の
raring-server-cloudimg-amd64-vagrant-disk1.box
を選択。

$ vagrant box add ubuntu13 http://cloud-images.ubuntu.com/raring/current/raring-server-cloudimg-vagrant-amd64-disk1.box
Downloading or copying the box...
Progress: 0% (Rate: 185k/s, Estimated time remaining: 1:11:56)^CWaiting for cleanup before exiting...
Extracting box...e: 0/s, Estimated time remaining: --:--:--)
Successfully added box 'ubuntu13' with provider 'virtualbox'!

boxファイルをダウンロードしてローカルのパス指定しても可。
仮想マシンの初期設定
適当な作業ディレクトリを作って

$ vagrant init ubuntu13
A `Vagrantfile` has been placed in this directory. You are now
ready to `vagrant up` your first virtual environment! Please read
the comments in the Vagrantfile as well as documentation on
`vagrantup.com` for more information on using Vagrant.
mbpi7r:vagrant shin$ vagrant up ubuntu13
The machine with the name 'ubuntu13' was not found configured for
this Vagrant environment.
仮想マシンの起動

$ vagrant up
Bringing machine 'default' up with 'virtualbox' provider...
[default] Importing base box 'ubuntu13'...
[default] Matching MAC address for NAT networking...
[default] Setting the name of the VM...
[default] Clearing any previously set forwarded ports...
[default] Creating shared folders metadata...
[default] Clearing any previously set network interfaces...
[default] Preparing network interfaces based on configuration...
[default] Forwarding ports...
[default] -- 22 => 2222 (adapter 1)
[default] Booting VM...
[default] Waiting for machine to boot. This may take a few minutes...
[default] Machine booted and ready!
[default] Mounting shared folders...
[default] -- /vagrant

これで起動完了。
仮想マシンにsshする

$ vagrant ssh
Welcome to Ubuntu 13.04 (GNU/Linux 3.8.0-30-generic x86_64)
* Documentation: https://help.ubuntu.com/
System information as of Tue Sep 10 01:54:54 UTC 2013
System load: 0.22 Processes: 78
Usage of /: 2.4% of 39.33GB Users logged in: 0
Memory usage: 33% IP address for eth0: 10.0.2.15
Swap usage: 0%
Graph this data and manage this system at https://landscape.canonical.com/
Get cloud support with Ubuntu Advantage Cloud Guest:
http://www.ubuntu.com/business/services/cloud
Use Juju to deploy your cloud instances and workloads:
https://juju.ubuntu.com/#cloud-raring
0 packages can be updated.
0 updates are security updates.
vagrant@vagrant-ubuntu-raring-64:~$

仮想マシンを落とす

$ vagrant halt
[default] Attempting graceful shutdown of VM...

Comments
comments